Sydney has a thriving Muslim popular from across the world. Early migrants from Turkey and Lebanon brought a taste of the Middle East to the country.
About Sydney - Food in Sydney
Sydney has a thriving Muslim popular from across the world. Early migrants from Turkey and Lebanon brought a taste of the Middle East to the country. Now the second and third generations of these migrants are exploring new foodie ideas and setting up new restaurants catering to the diverse culinary taste of Sydneysiders.
Most restaurants serve Halal food as a major chunk of the Muslim population prefers Halal (Kosher) meat. You can find a number of quality butcheries serving Halal meet across the western suburbs as well as Inner West.
All through the Eighties, Lakemba & Auburn have been the hub of Muslim eateries. With the population growing from Pakistan, India Bangladesh, and Afghanistan a halal restaurant can be found in almost every suburb in the city.
Anatomy of a Kebab - Food in Sydney
Kebabs ( on skewers ) or Seekh Kebabs are a specialty of Afghanistan, Pakistan, and Indian Sub-Content. Middle Eastern Restaurants serve these kebabs in a slightly different flavor. The meat mince is mix with aromatic herbs, fat, onion, and tomatoes. The kebabs are then put on skewers and cooked over charcoal.
Where to eat the best Kebabs
Dafa Al Arabi Halal Restaurant - Fairfield Sydney
I have eaten over 40+ restaurants across the city and one of my favorite Restaurants is Dafa Al-Arabi, a small family-run business based in the western suburb of Fairfield. This restaurant is managed by an Iraqi family and the cooking style is absolutely amazing. The menu is relatively small with a fixed number of dishes that are sure to sell before 8 pm on regular days. Therefore, if you really want to check out this venue, try to make it by 6 pm.
The Meat is mixed with special spices and beef lard to give an amazing texture. The kebabs are cooked to perfection and served with mint sauce and freshly baked bread.
Other popular dishes are Okra in a sauce, mixed platter (meats on skewers), grilled barramundi, and rice. The Kebab serving is reasonably sized and priced below $20.
I visit this lovely restaurant once a month at least to water my tastebuds.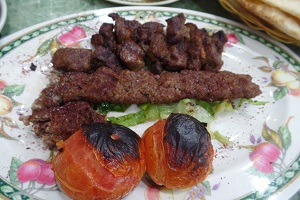 Al-Aseel Halal Restaurant
An old and reputed name, Al-Aseel has several branches across the city. I love the one in Greenacres, probably one of the oldest. The newer branches are opened on Bourke Street in Alexandria.
The Kebabs, are amazingly served in a platter of Middle Easter Salads, including Tabouli, hummus, and Baba Ganoush. Served with Lebanese bread, these Kebabs taste amazing with Garlic Sauce which is a must of Middle-Eastern Menu.
I like the texture and serving size of Kebabs. Other accompanying dishes include deep-fried eggplant with dipping sauce, mezes, and a platter of mixed salads.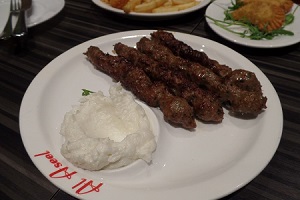 Himalaya Pakistani and Indian Restaurant
Himalaya restaurant captures the flavors of Pakistan's Punjabi cuisine. Most meat dishes are cooked in authentic Pakistani Style and served with fresh bread, naan, and mint sauces. Seekh Kebabs occupies a special place in Pakistan's culinary scene. The foodies in Pakistan are surely addicted to a wide range of Kebabs prepared in unique style with a range of mixed spices and prepared skewers.
Himalaya has a number of branches all across the city and has options for delivery or pick-up under new COVID-19 restrictions.